Election Night at Bad Boyz Pizza 9pm to 12am
Details, click here!
Diane's Public Schedule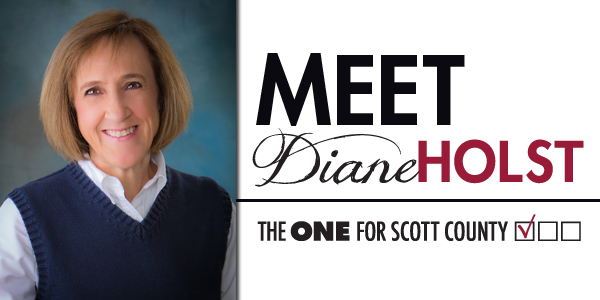 October:
7th   Scott County Planning & Zoning board meeting @ County Building
11th Miller-Meeks/Loebsack debate @ SAU
11th Ernst/Braley debate @ SAU
13th Republican Women's luncheon
26th Bettendorf Halloween Parade
28th Reagan Dinner
September:
2nd Scott County Planning & Zoning board meeting @ County Building
8th  Republican Women's luncheon
9th  Scott County Board Committee of the Whole meeting
18th Brian Schmidt fundraiser
20th Record Civic Affairs Show with Ken Croken @ WOC Radio
20th Holst fundraiser at Priester's
25th Quad City Chamber Candidate forum @ Genesis Heart Institute
28th Thrasher Day, Scott County Historical Society
August:
5th Rand Paul event @ HQ
5th Scott County GOP Central Committee meeting
8th LeClaire Parade
10th Miller-Meeks fundraiser
11th Republican Women's luncheon
12th Joni Ernst fundraiser
19th Scott County Planning & Zoning board meeting @ County Building
20th Norlin Mommsen fundraiser
20th Scott County GOP Convention
23rd Princeton Parade (cancelled due to rain)
July:
4th Bettendorf Parade
6th Buffalo Parade
12th Eldridge Parade
June;
25th door-to-door in Davenport
14th GOP State Convention in Des Moines
10th Door knocking in Bettendorf
Sunday June 8, 2014
Time: TBD
Place: Long Grove Strawberry Festival
Saturday June 7, 2014
Time: TBD
Place: Bluegrass Days
Wednesday June 4, 2014
Time: 5:30 – 7:00pm
Place: Scott County GOP Election Headquarters Grand Opening with Governor Branstad
Please join our e-mail list by joining with the form to the right.
We will update all subscribers when there is a new meet and greet event date added to the calendar.
Join Diane and her husband Dave on Primary night to watch the election returns and celebrate her hard work to date and hopefully help organize for the general election in November.
Date: Tuesday June 3rd, 2014
Time: 9pm to 11pm
Place: Bad Boy'z Pizza
5266 Utica Ridge Road
Davenport, Iowa
Please share with friends!
Here's the link to the Facebook event.
Friday, May 2, 2014
Time:  5:00-7:00 pm
Place:  Great River Brewery, 332 East 2nd Street, Davenport, IA
Thursday, April 24, 2014
Time:  6:30 pm
Place:  Don's Pub, 101 S. Main Street, Donahue, IA  52746
Wednesday, April 23, 2014
Time:  6:30 pm
Place:  LeClaire Fire Dept. Community Room, 201 N. 15th Street, LeClaire, IA  52753
Tuesday, April 22, 2014
Time:  6:30 pm
Place:  New Liberty Fire Station, 765 Pike Street, New Liberty, IA  52765
Monday, April 21, 2014
Time:  6:30 pm
Place:  Walcott Coliseum, 116 E. Bryant Street, Walcott, IA  52773